QLTR? What the heck is a QLTR?
It's simple, really, and yet diabolically clever at the same time. This is my monthly list of books I'd Quite Like to Read. And why only Quite Like to Read? Isn't that a bit wishy-washy?
Well, to be honest, it started out as TBR (To Be Read), but a curious thing happened. I would carefully compile the list, all shiny and new at the beginning of each month. And then I'd immediately want to rebel and read something entirely different. This caused feelings of guilt, failure and despair at the end of the month when I hadn't read anything at all from my list.
What to do? Exercise more self-control? No. Don't be silly. Change the name! So the list became WTR (you guessed it: Want to Read). But it turned out I didn't, really. Want to read them, that is. Cue the guilt, failure, etc.
Again,what to do? Abandon the list idea entirely? Come on. It's a list. Lists are good. So I came up with this genius idea. I don't have to read these books. I may not even want to read them once the month begins. But I'd quite like to read them. Maybe. See how it goes. No pressure. And you know what? It worked. Last month, I read almost all the books on my list. Sometimes my mind is a frighteningly irrational place to live in.
So what would I Quite Like to Read in May? I have a list of 10 books. They're in the image at the beginning of this post. Interestingly, they look sort of autumnal, don't they? This wasn't deliberate, just a sort of serendipity, because it's autumn here, though maybe not where you are. Eight of them are from the library (I love my library), I own one, and the other is an audio book on my phone (although I have cleverly cheated and added its image into the photograph through the magic of photo editing software). So here they are:
Red Sister by Mark Lawrence.
This is the first in the Book Of the Ancestor series and it sounds like something I would love. Fantasy? Check. Magic school? Check. Warrior nuns? Yes please. My only reservation is that I've heard it is pretty violent. We'll see if that affects my enjoyment or not.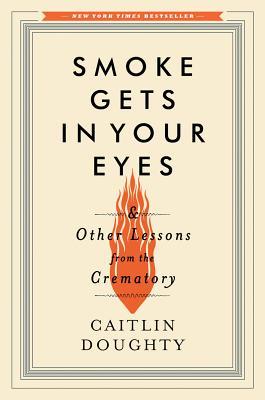 Smoke Gets in Your Eyes by Caitlin Doughty
I've only heard good things about this memoir from mortician Caitlin Doughty. I love reading about people in very different occupations and mortician is certainly different to anything I've ever done (or wanted to do).
The Chalk Man by CJ Tudor
I haven't read anything by Tudor before, but the reviews of this one sounded interesting. A group of kids send each other coded messages by drawing little chalk men. Until someone else joins in, leading them to find a dead body. Years later, the chalk men reappear, but who is doing it and why? It reminds me of the Sherlock Holmes story The Adventure of the Dancing Men. And I can't resist this cover.
4:50 from Paddington by Agatha Christie.
This is a reread of an old favourite. I've been participating in the Mission Marple book club hosted by Mara from You Tube channel Books Like Whoa and this our 7th Marple. If you're a Christie fan, I'd recommend you check out Mara's channel.
The Silent Patient by Alex Michaelides
This is the audio book. I had a one-month trial from Audible and this is one of the books I downloaded. The other was The Secret History by Donna Tartt, which was a massive one to get for free (22 hours). This is a more normal length at 8 1/2 hours. It's a thriller, about Alicia, an artist who apparently kills her husband by shooting him five times and then refuses to talk at all for five years. We hear about the events leading up to the killing from Alicia herself and we also get the point of view of Theo, her psychotherapist, in the present as he attempts to treat her. The audio book is a two-hander, narrated by Louise Brealey and Jack Hawkins. I've begun listening to it, and they are both excellent.
A Lineage of Grace by Francine Rivers
Actually, I only have the first story in this omnibus on my list for the month, but this is the edition the library had, so I may read more. Francine Rivers is a
a very popular author of Christian fiction, new to me, but recommended by KayCKay from KayCKay Book Reviews. The story I'd like to read is Unveiled, a fictionalised version of the story of Tamar, from the Old Testament. I don't usually read much Christian fiction, but I'm intrigued by the idea of fleshing out woman from the Bible. This edition also includes the stories of Rahab, Ruth, Bathsheba and Mary. I'm especially intersted in Rahab and Ruth, but I want to read them in order, so I'll start with Tamar.
Hare's Fur by Trevor Shearston
This is the featured novel in my local Writers and Readers Festival this year, held in May, so lots of people will be reading it and there'll be a panel discussion. It's the story of a widowed potter living in the Blue Mountains in NSW, who discovers three siblings living in a cave, hiding from social services and the police. This unlikely group of outsiders begin to form a fragile bond, says the blurb. It also says it's a luminous, exquisite story of grief, kindness, art and transformation. What's not to like?
Illuminae by Amy Kaufman and Jay Kristoff
I've read a couple of fantasy novels by Kristoff and liked them, but nothing from Kaufman. This is a Young Adult science fiction novel told through "hacked documents: emails, schematics, military files, IMs, medical reports, interviews, and more" which is honestly the only reason I'm interested (at 58 years old, YA adventure romances are not really my thing). I liked Marisha Pessl's thriller Night Film, which uses a similar multi-media approach,so I'll give this one a go. If I enjoy it, there are two other books in the trilogy.
A Closed and Common Orbit (Wayfarers #2) by Becky Chambers
What can I say? This is the sequel to The Long Way to a Small Angry Planet which I borrowed from the library earlier this year purely based on the title. Irresistible. I liked that book because it had one of my favourite setups: an ensemble cast of misfits in a spaceship having to get on with each other to get the job done (Think Firefly).It was just a lot of fun, so I'm hoping this one will be, too.
Beowulf translated by JRR Tolkien
Slightly different to the rest of the list! One of my bookish challenges this year is to read more classics. I have a short list, including the likes of Steinbeck, DuMaurier and Wilkie Collins, but this is the most academic and challenging. I may not finish it, but I want to give it a try. I've read a couple of versions of the story of Beowulf, but this is an academic translation by Tolkien, performing his day job as a philologist and translator, rather than indulging his passion for writing epic fantasy. So I'm not expecting The Lord of the Rings. Still, it's good to exercise the brain occasionally. Plus, that cover, right?
10 books. 31 days. Let the challenge commence (no, no, it's not a challenge, just a series of gentle suggestions, a few nudges if you will, absolutely nothing to rebel against, really – whew, that was a close one).