I read ten books in April, all fiction: eight novels and two novellas. And I didn't abandon any of the books I started. It was a very good reading month, with ratings ranging from 3 stars to 5 stars, with an average of 4 stars for the month.
What I read (ranked from lowest to highest rated):
1. LEVERAGE IN DEATH (In Death #47) by JD Robb
Crime Fiction, Futuristic, 3 stars
This brings me up to date with this series, but this one was a disappointment. In any long series, there will inevitably be highs and lows. It wasn't a terrible book, but the characters seemed caricatures, each one just a set of their typical quirks and no more. The mystery wasn't up to par, either, and the perpetrators and their motives just didn't convince me. Still, a quick read with some fun to be had. Not recommended unless you're already a fan and/or want to complete the series.
2. THE SECRET HISTORY by Donna Tartt
Literary Fiction, 3 stars
I wanted to love this one, I truly did, and for the first third, it was on track to be a 5-star novel. Loved the writing, the atmosphere, the characters. But it went downhill from there, and the final third was really a grind to get through. I was so tired of these characters by the end, I just didn't care what happened any more.
I loved the idea but I wanted it to be so much tighter. It felt self-indulgent and in need of editing. I listened to it as an audio book, read by the author, and I thought her voice and narration were fine. I wonder if I would have liked it more if I'd read a print version. Perhaps, but I'll never know because I doubt I'll revisit it.
3. DEATH AT HAZEL HOUSE (Sukey Reynolds #1) by Betty Rowlands
Cozy Crime/ Mystery/ Amateur Detective, 3.5 stars
I won't say too much about this because I posted a review here. I liked it, it was fun and better than the usual cozy mystery. If I see any other books in this series at the library or in a charity shop, I'll pick them up and give them a try.
4. A POCKET FULL OF RYE (Miss Marple #7) by Agatha Christie
Crime/Mystery/Amateur Detective, 4 stars.
This was a re-read that I read for Mission Marple Book Club and it was such an enjoyable read, all the way through. I love the setting, the characters and the solution. Very Christie. For me, it's right up there with The Murder at the Vicarage. And the last few pages and especially the last sentence, are so satisfying. And if you want to know more, you'll have to read it for yourself. It's a mystery, after all.
5. WYRD SISTERS (Discworld #6) by Terry Pratchett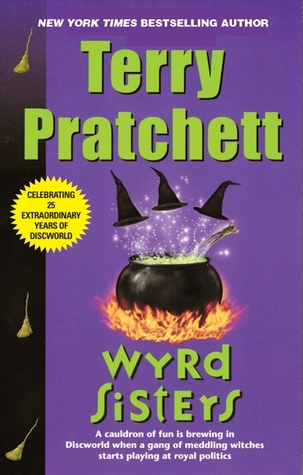 Fantasy/Humour, 4 stars
Another re-read and another joyful experience. This is the 6th Discworld novel and the 2nd in the Witches series. Esme Weatherwax, Nanny Ogg and Magrat Garlick are the three witches in a (sort of) parallel story to Macbeth (but not really). If you love Shakespearean allusions, you'll love this. Pratchett is always surprising, and you never quite know where he's going, even when you think you've outsmarted him and worked it out. He combines comedy and satire with some truly emotional moments in a way very few authors are able to do.
6. THE LABOURS OF MRS STELLA RYMAN (Fairmount Manor Mysteries #2) by Mel Anastasiou
Cozy Crime/Humour/Amateur Detective, 4 stars
This was my first time reading anything by this author and I had a lot of fun with Stella, an eighty-two year old who isn't going to let being imprisoned in an old age home stop her from solving any mystery that comes her way, while breaking lots of rules. Full review here.
7. WALKING TO ALDEBARAN by Adrian Tchaikovsky
Science Fiction/Novella, 4.5 stars
This is the third science fiction book by Adrian Tchaikovsky that I've read and it just confirmed what I already knew: I'm a fan. Not quite up there with Children of Time or Dogs of War, but it's a novella, not a novel. And it's a pretty great novella. Atmospheric, character-driven and surprising, with a great ending. See my full review here.
8. THE ROOK (The Chequy Files #1) by Daniel O'Malley
Fantasy/Urban Fantasy, 4.5 stars
MI5. With magicians. Yes, oh yes, I was always going to love this, even if it was only just competently written. And it's a lot more than that. This is the story of Myfanwy Thomas, who wakes up with no idea who or where she is. She finds a letter in her pocket that says: "The body you are wearing used to be mine." She then has to follow directions left by her former self to negotiate her job, which involves tracking and neutralising paranormal threats, while also trying to stay alive because someone is trying very hard to kill her. I was completely on board for all of this and I loved Myfanwy's journey from clueless to triumphant.
9. ARTIFICIAL CONDITION (The Murderbot Diaries #2) by Martha Wells
Science Fiction/Novella, 4.5 stars
I need more Murderbot!
This second novella is almost as good as All Systems Red, but I really can't recommend the audio book. I wish I'd read a print version. The narrator just doesn't do justice to Murderbot's dry, sarcastic humour at all and his attempts at the female characters are frankly pathetic. Even so, Martha Wells' writing comes through and I know I would have loved this if I had read it, so the rating is for that rather than the audio book experience.
Curiously, not a lot happens in this sequel and some readers may see this as a flaw, but I enjoyed the character interactions so much, and, of course, Murderbot's internal musings on humans and its own choices, which are sometimes inexplicable to itself.
I also loved the new character, ART. I hope it makes another appearance.
I'll be reading the final two novellas as soon as I can, but what I really want to see is a Murderbot novel. I've got the five stars all polished and ready for that.
10. UPROOTED by Naomi Novik
Fantasy/Reimagined Folk Tale, 5 stars
And here it is, my 5-star read for the month. I don't give many books 5 stars. Some of my 5-star read s on Goodreads would be 4.5 or 4.75, if only Goodreads would let me rate them that way. But this was a genuine 5-star reading experience. Not perfect, but everything I want from this kind of story.
The writing is stunning, the magic is completely believable and the story is deep and rich, with real moral choices and real consequences. The stakes are very high and there's no cheating in the resolution.
The romance, which some readers have felt was problematic, occupies such a small fraction of the novel that it seems almost inconsequential to me. Call it the difference between 4.9 and 5 stars.
I enjoyed Naomi Novik's Temeraire series, but this is like an offering from a completely different author: mature and assured and very, very good at what she does.
What did you read in April? Did you have a good reading month? Join the discussion in the comments.