I read 7 books in May, with an average rating of 4 stars out of 5. A successful reading month!
Here are the books I read: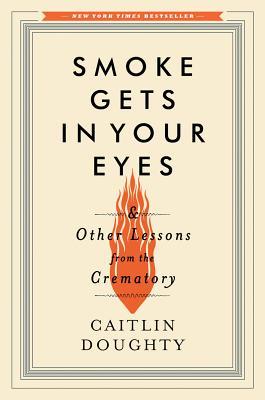 SMOKE GETS IN YOUR EYES by Caitlin Doughty
GENRE: Non-fiction
3.5 STARS
This felt like two books: in one, Caitlin Doughty gives us a kind of memoir from her six years of working at Westwind Crematory in California.This is the reason I wanted to read the book in the first place and it was as fascinating, confronting, heartbreaking and heartwarming as I had hoped. However, Doughty intersperses her anecdotes with information about death and funereal customs from other times and other places and philosophises about our own culture's relationship with the dead and their mortal remains. She also gives us an eye-opening and somewhat scathing view of the modern American funeral industry. These passages kept breaking the flow of the narrative to such an extent that in the end I simply began skipping over them. So, a potential 5-star read became 3.5 stars for me. See my full review here.
THE CHALK MAN by CJ Tudor
GENRE: Thriller
5 STARS
It's been a long time since a book hooked me so quickly and so thoroughly from the first page. And I'm not sure I've ever given 5 stars to a straight thriller before. So there's a recommendation for you!
See my full review here.
4:50 FROM PADDINGTON by Agatha Christie.
GENRE: Detective Story
3 STARS
Another re-read for Mission Marple. There are lots of small things to enjoy here but for me they didn't add up to one of Christie's best. I do like the beginning, where a friend of Miss Marple's sees a murder happening before her eyes on a train running parallel to the one she's travelling on. But when no dead body is reported, Miss Marple decides to take matters into her own hands, or rather the hands of Lucy Eylesbarrow, a delightful young woman who she employs to find the body. But I felt it became a bit unfocused and at times silly (all the men fall for Lucy, which seems unnecessary). I enjoyed it, but wanted it to be better.
THE SILENT PATIENT by Alex Michaelides
GENRE: Thriller
3 STARS
You can read my full review here, but in summary:
I'm giving this thriller 3 stars because although I guessed the solution quite early, the author was able to draw me on to the end to see exactly how the story played out. It is too slow-moving for a thriller, however, even a little boring in the middle. If I was rating based purely on enjoyment I would only give it 2.5.
ONE WORD KILL By Mark Lawrence
GENRE: Science Fiction
4.5 STARS
You can read my full review here, but in summary:
One Word Kill is a science fiction novel with a fantasy game embedded inside it. It's also a coming-of-age story about a teenager with cancer who meets a mysterious time-travelling stranger. And it's wonderful.
A LINEAGE OF GRACE by Francine Rivers
GENRE: Christian Fiction
4 STARS
I only read the first novella from this collection of stories about women from the Old Testament: "Unveiled", the story of Tamar. I didn't really get on with the writing at the beginning and thought I wasn't going to enjoy it, but at only 83 pages I decided I might as well read it all before I passed judgement. So glad I did. I still think the beginning could be better, but I forgive Francine Rivers everything for the power and emotion of the second half of the novella. Tamar is an amazing woman with such a moving story. I had tears in my eyes by the end. Rating is difficult. I'd give half of it 3 stars and the other half 5, so I've split the difference and called it 4.
ILLUMINAE by Amie Kaufman and Jay Kristoff
GENRE: Science Fiction
5 STARS!
Yes, another 5-star read ! That's two in one month. And I didn't see this one coming, either. Here's the blurb:
This morning, Kady thought breaking up with Ezra was the hardest thing she'd have to do. This afternoon, her planet was invaded.
Personally, that doesn't really grab my interest. It makes the novel sound as if it's a teenage romance. It's not. The only reason I picked Illuminae up is because the blurb goes on to say the story is told through:
a fascinating dossier of hacked documents—including emails, schematics, military files, IMs, medical reports, interviews, and more .
That did sound intriguing. And it is. Incredibly intriguing and unbelievably well done. There is no narration. None at all. Just documents written by different people or recorded on the spaceships. It took a little while to adjust to the story being told this way, but by about page 50 I was completely enthralled. If you like your novels straightforward, with everything laid out for you from the beginning, you won't enjoy this. But if you read mysteries or thrillers and love piecing clues together to find out what's going on, you may love it as much as I did. And I'm still finding it surprising how much emotion Kaufman and Kristoff made me feel when so little of the text is overtly emotional. When I finished reading, my heart was pounding hard in the best possible way. Honestly, if I could give it 6 stars, I probably would.

So I read 7 books in May, with an average rating of 4 stars. Another pretty good month. How much reading did you do in May? And what was your favourite read?